WarPaint International is a full-service, mobile beauty agency offering highly skilled, and hand selected beauty professionals in the areas of hair styling, makeup artistry, photo & wardrobe styling. As a multiple "Best of Weddings" and "Hall of Fame" award winner with The Knot Wedding Network, WarPaint International takes pride in providing flawless wedding day beauty solutions to large bridal parties and individual brides.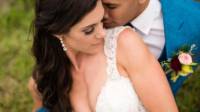 read more › On-site beauty services specializing in hair styling & makeup artistry for print, photo, bridal, consumer, commercial and celebrity.
WarPaint International was fantastic to work with! The day of my wedding, our team was Keely, Wendy and Laura. All three did a great job and were very timely! I was the bride and worked with Keely who was so much fun to work with - she really listened to my concerns (I dont typically wear a lot of makeup) and helped me come up with a beautiful wedding day look. Their upfront pricing and easy scheduling made working with them very stress free. Thank you guys!
WarPaint International went ABOVE and BEYOND for my wedding day! First off, they were so easy to work with and very professional. The owner, Jessica Mae, is so kind and organized and the minute I chose WarPaint for my wedding hair and makeup I knew I made the best decision for my big day! Laura and Heidi created my dream bridal look! Starting with the trial, they listened to me and created the perfect look that I dreamt of for this day! Not only did they create my dream look, they also did an amazing job with my large bridal party! They got everyone done on time and everyone looked FLAWLESS! Behind the scenes, this company never made me stressed and responded to all my emails right away. They deserve an A + in my book for coordination, professionalism, and overall communication! I would recommend WarPaint International to ANY Bride!
WPI was an absolutely AMAZING vendor to work with!! Leading up to the wedding, communication was very professional and responsive. They own coordinating the trial and day-of schedule (one less thing for the bride to do!). For my hair I worked with Jen and Torie did my make-up. Both were phenomenal. I don't know much about hair and make up and they worked with me, asking questions as we went, adjusting as needed - the final look was 10/10!! I was thrilled. I couldn't have asked for anything better - I 100% recommend booking WPI!
I loved working with WarPaint International. Keely made me look flawless on my big day. I hadn't felt that pretty in a long time! Mia and Mariah were also instrumental in getting my bridesmaids ready. The team at WPI was a pleasure to work with. The team was very organized and I never had to stress about my hair/make up.
WarPaint International – Twin Cities location was amazing to work with and have as my onsite wedding day makeup artist. I had Amanda do my bridal makeup and I absolutely loved it! I really enjoyed working with her and she is by far the best makeup artist I have ever had. She had a great vision and I'm so happy with how my makeup turned out for the trial and wedding day. I couldn't believe it was even better on the wedding day! My friends also loved working with her. One of my bridesmaids was nervous about getting her makeup done but she put her at ease and all the girls loved how the makeup turned out. We started the day doing a morning yoga class with Mariah. It was such a perfect and relaxing way to start the day with me and my bridesmaids. I highly recommend WarPaint and look forward to working with them for other events in the future!
WarPaint was great! Amanda did my hair & makeup and it turned out so beautiful day of. I wanted something more on the natural side but that would still show in pictures and she truly accomplished that. Not only was it beautiful, but it did not budge. I cried several times throughout the event and it looked just as perfect when we got back to our hotel as it did the moment I got to the venue. I got several compliments from guests. Katie & Heidi helped with hair & makeup for my family day of as well and they all looked beautiful. Each one of them was happy with their looks and they can be a picky bunch. Lastly, Mariah was great with coordinating and answering all of my questions. I would definitely use WarPaint again!
WE LOVED WPI!! Every single artist that we hired for our wedding day (Keely, Mia, Katie, Mariah) did such a phenomenal job with hair and makeup for my bridal party. From the day I first inquired booking with them up until wedding day, I continued to be impressed by their professionalism and promptness to answer any and all questions I had throughout this process. The WPI team's response time to any email was extremely quick, something that all brides appreciate. I also cannot forget to mention how much fun they all are! All four artisans did a beautiful job on my bridal party's hair and makeup and it looked stellar throughout the ENTIRE day. I cannot say enough wonderful things about Keely who did my bridal hair and makeup. She was incredible at helping me come up for the perfect look on my day but also listening to any changes I wanted made between my trial and wedding day. Not to mention Keely was such a wonderful hype women making me feel so beautiful on my wedding day! Most of my pre-wedding day communication day went through Mariah who was very attentive, positive and thoughtful. The entire team did a great job making my wedding party feel safe and comfortable through this ever evolving pandemic. I can't thank WPI enough! They are worth the price, hire them!
I booked WarPaint for hair & makeup services for my June 12th wedding and I am SO happy I did! Mariah was so very helpful in keeping all of the details organized and ensuring everything was scheduled & ready to go on my wedding day; I so appreciated the consistent communication that she provided along the way! I worked with Tina and Kathleen for my bridal makeup & hair and they were FANTASTIC! They really listened to what I was looking for in my wedding day look, and the execution was truly impressive! Amanda also helped with my bridesmaids' hair & makeup and was also wonderful! Everyone looked amazing thanks to this lovely hair & makeup team! Thank you WarPaint!
WarPaint International is the way to go for any formal occasion! Artist Mariah Jere has been our stylist for dance showcases and family weddings over the years. WarPaint does an excellent job of making sure their clients feel safe during COVID and they walk you through the planning process step by step. Mariah is highly skilled and quite speedy! WarPaint is an absolute guarantee you'll look and feel like a million bucks.
WarPaint International – Twin Cities location was amazing to work with and have as my onsite wedding day makeup and hair artists. I had Keely do my bridal makeup and LOVED it! During our trial she took notes on what worked and what would need adjustment on the day of. I went with the airbrush option and so happy I did because my makeup lasted the entire day, in the month of July! Katie was the second makeup artist that assisted Keely with some of my bridesmaid's makeup who had nothing but great things to say about theirs as well. Both MOG and MOB loved their looks and appreciated being able to give feedback on the spot and have both Keely and Katie pivot as needed. Now, let's talk about Kathleen and her amazing hair styling talents. Kathleen was a blessing and I couldn't be more happy with the final updo results. My maid of honor as well as the MOB got their hair styled by Kathleen and killed it with both updo's and the blowout she did. We all loved our looks and couldn't have asked for a better hairdresser. I will add I had a very ethnically diverse bridal party (Japan, Ethiopia, Panama, and Mexico) and WarPaint was able to accommodate all skin tones and hair textures. Would highly recommend booking with WPI for your special day and if you are lucky, you could get any of these three amazing ladies 😊.
My experience with WarPaint was absolutely wonderful! I initially booked a different hair and makeup agency for my wedding day, however I had an AWFUL trial two weeks before my 7/10 wedding (they wouldn't book earlier than this for some reason, which I should have realized earlier was a huge red flag). My experience was so terrible that I decided to scramble and look for a new agency. WarPaint to the rescue!! The quality and professionalism that I experienced between WarPaint and the original agency was literally night and day. They were so attentive and detailed in their communication over phone and email, and they provided the convenience of coming to my home for my trial. Katie and Kathleen are also amazing artisans! My face was glowing after Katie did my makeup, and Kathleen is literally the queen of braids! Both of these ladies are very kind and truly wanted to capture my hair and makeup vision. My bridesmaids and mother also loved how everything turned out. I highly recommend WarPaint for your wedding hair and makeup. You will NOT be disappointed!